Little Star Garage in Manitowish Waters, WI has been at the same location since 1957, providing our customers with top-quality products and excellent auto repair service. Our experienced technicians have the knowledge and skill to tackle any auto repair or maintenance service. We understand sophisticated car engines and systems, and our technicians are trained on the latest technologies to better meet your auto repair and maintenance needs.
Our Automobile Services
• Oil Changes • Tune-Ups • Transmission Service • Brake Service & Repair • Exhaust Systems Service • Suspension Services • Tire Repairs • General Repair & Scheduled Services
Quality Parts
We offer the best quality parts available. We have 3 daily parts shipments and use top brand names in parts and fluids to keep your auto running smoothly. In addition, our technicians utilize state-of-the-art diagnostic equipment. You receive an in-depth analysis of your vehicle's systems, so you can understand your car's needs and keep it running well for years.
Little Star Garage auto repair service will keep your car running in tip-top shape. You'll always feel secure behind the wheel when you enlist the automobile services of Little Star Garage.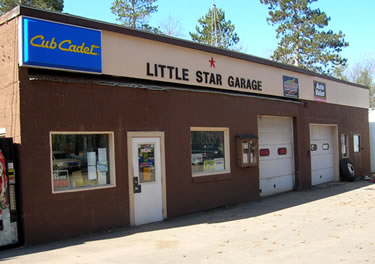 Dedication to Quality
From oil changes to tires, Little Star Garage is your solution for your car's needs. We take pride in our work, so we complete each repair with a dedication to quality.
Oil Change Service
Your engine will NOT run properly without adequate lubrication. By changing your oil every 5,000 miles, you will eliminate excess wear on your engine and improve your gas mileage. We perform the following:
Drain and refill with premium grade motor oil. Amsoil available.
Install a new oil filter
Comprehensive inspection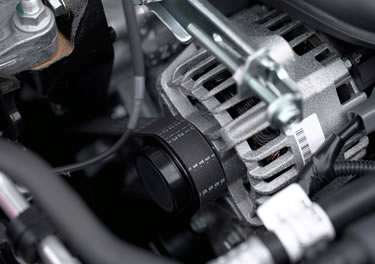 Routine Maintenance
Performing regular maintenance helps ensure a long life for your vehicle. Our experienced technicians will inspect your car and if necessary:
Replace Distributor Caps
Replace Spark Plugs & Wires
Replace Timing Belts, Hoses, and Accessory Belts
Adjust ignition timing, idle speed, and fuel mixture
Differential & transaxle service
Analyze exhaust emissions
Brake Service
The brakes on your vehicle are the most important safety feature your vehicle can have. Without a safe, sure-shopping ability, your car should not be on the road. Our mechanics can:
Replace worn pads and linings
Rotor and drum replacement
Adjust and bleed system
Repack wheel bearings
Replace calipers, wheel cylinders, and master cylinder
Tires
For a safe, smooth ride, the condition of your tires is of utmost importance. From the proper tire pressure to the correct alignment, our technicians ensure that your tires are road worthy. And if your tread is low or worn irregularly, we offer new tires, so you can always enjoy a quiet, safe and fun ride.
Balance and rotate tires
Flat tire repair
Tire patching and plugging
New tire sales, Goodyear, BF Goodrich, Firestone, Bridgestone, Cooper, Michelin
Boat & Utility Trailer Services
Regular trailer maintenance is critical to ensuring the longevity of your trailer, as well as making sure you are able to tow to your destination safely. Before towing, make sure your trailer and its many components are in safe working order. Worn or broken trailer parts can cause loss of control and injury may result.
Balance and rotate tires
Flat tire repair
Repack wheel bearings
Brake services
Contact Little Star Garage
Keeping a well-maintained vehicle is paramount to your safety.
Call to schedule an appointment.
Tel: 715-543-8300
5699 U.S. Hwy 51
P.O. Box 226
Manitowish Waters, WI 54545
SHOP
M-F: 8am - 5pm
Sat: 8am - Noon
Sun: Closed
TOWING
24 Hours / 7 Days